Into the wild – Luxembourg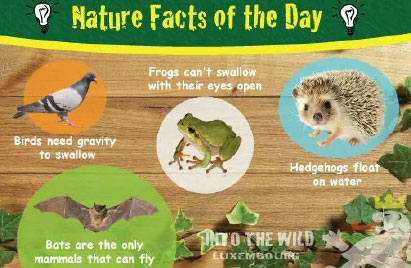 The nature project Into the wild Luxembourg was born due to a passion for the natural environment with the goal of reconnecting Luxembourgs society back with nature in order to rise awareness among people, specially the younger generations as nowadays our youth has distanced itself of it by immersing into a more virtual and materialistic world instead of enjoying the wonders of the outdoors.
Our nature Guide is supposed to become an educational web platform were we will organise activities, excursions and create the first audiovisual documentaries of Luxembourg's beautiful flora and fauna. Where people can learn, share and discuss their doubts, pictures or events concerning the observation, study and conservation of Luxembourgs nature.
The understanding of our ecology helps people to see beyond what normally would be banal or unimportant to them in the observation of a natural milieu. Every single structure in nature has a key role to play in our ecosystem and they all have a story to tell. When someone learns how to track nature, their conscience and awareness of their surroundings drastically changes as you can now grant an explanation to the phenomena observed, linking them to processes present in ecology.
Like this, hiking trips become even more interesting, fun and stimulating for the mind as we will understand and see Nature with different eyes. Once thing we are sure is that education is one of the key steps towards the protection of our natural environment.
Autres projets pour Initiativ