Kompetenz an der Jugendaarbecht
From unemployed to entrepreneurs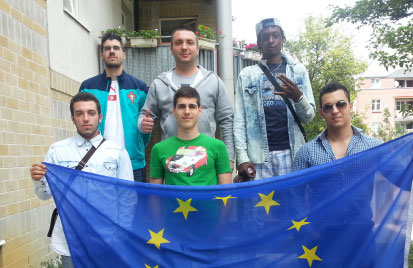 The project "From unemployed to entrepreneurs" gave youth workers and youth leaders necessary skills and knowledge to become coaches of young entrepreneurs. It also contributed to the development of entrepreneurship in Europe at the time of economic crisis and high unemployment.
In "From unemployed to entrepreneurs" we applied entrepreneurship to empower young unemployed. Furthermore the social aspects were stressed: the development of communities, NGO sector, art and sport activities and the general attitude of being active citizens of Europe. With this project we pointed out that young entrepreneurs are the people who can turn their ideas into action, empower them to build a better world and be active participants in the lives of their communities.
At the time of economic crisis, which is accompanied by fast growing unemployment of young people and decreasing chances of employment in public sector, there is a need for young people to create jobs for themselves. Through this project, the workshops, the visits of youth centers and meetings with successful entrepreneurs, as well as by working on numerous new business ideas with the participants, we promoted entrepreneurship as an active way of life for young people who create their own job and make positive impact on economy and society.
To facilitate development of entrepreneurship and to share 'active' thinking about the future of communities in Europe this seminar did give skills to coaches of young entrepreneurs, but also created an on-line portal about youth entrepreneurship and how to empower unemployed young people. Such portal serves as a forum for communication and source of information for youth workers and young entrepreneurs from all over Europe. By using the knowledge gained during the project, as well as all created outputs, a quality and strong base for further improvements and entrepreneurial accomplishments was created.
Autres projets pour Kompetenz an der Jugendaarbecht